Arriving By Water
DIRECTIONS BY BOAT
The Sarasota Yacht Club is located on Lido channel at 27° 19.318'N / 82° 34.016'W (fuel dock location). Lido Channel is privately maintained with water depths of approximately 16 feet in the channel and 10 feet at the fuel dock.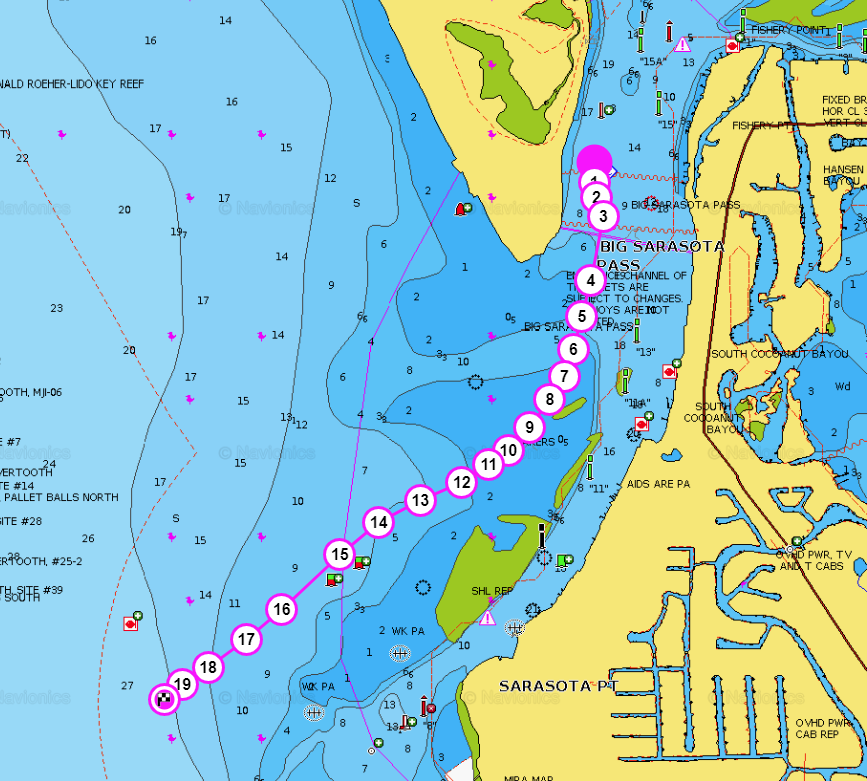 From the ICW
Depart the ICW in Sarasota Bay between markers #6 and #8 and head south/southwest towards Big Sarasota Pass. Leave marker #17 to starboard and turn to a heading of approximately 234°M for about .4 nm which is the south end of the Lido Channel. The Sarasota Yacht Club 'Marina Ahead' sign is located at approximately 27° 18.359'N / 82° 33.702'W. NOTE: Exercise caution for shoaling near this location. Leave this location to starboard and turn north/northwest and follow Lido Channel, leaving red channel markers to starboard. The Sarasota Yacht Club is approximately 1 nm north on the west side of Lido Channel.
From Big Sarasota Pass
NOTE: navigation of Big Sarasota Pass requires local knowledge due to shoaling and shifting sands. Proceed with caution.
These depths may change by the day due to weather conditions, this page will be updated as needed.
Big Pass Waypoints
as of July 7, 2023 at 9am, Tide: +1ft, Seas: 1ft or less
Control depth: 5ft
| | | |
| --- | --- | --- |
| N27*18.162' | W82*33.822' | 19.3ft |
| N27*17.886' | W82*33.834' | 12.0ft |
| N27*17.739' | W82*33.838' | 16.0ft |
| N27*17.650' | W82*33.863' | 16.0ft |
| N27*17.565' | W82*33.899' | 12.7ft |
| N27*17.436' | W82*33.956' | 13.1ft |
| N27*17.371' | W82*34.001' | 13.3ft |
| N27*17.319' | W82*34.055' | 13.5ft |
| N27*17.224' | W82*34.185' | 10.8ft |
| N27*17.149' | W82*34.330' | 9.3ft |
| N27*17.131' | W82*34.393' | 7.9ft |
| N27*17.110' | W82*34.464' | 7.1ft |
| N27*17.089' | W82*34.518' | 7.0ft |
| N27*17.034' | W82*34.595' | 7.5ft |
| N27*16.898' | W82*34.753' | 13.5ft |